Epics is an exciting way to collect digital trading cards of your favourite CSGO players and teams. Open card packs to build your collection. As your collection grows, you can trade, craft or even buy/sell cards on the marketplace. The more cards you collect, the higher you will climb on the global and regional leaderboards.
Epics first began in 2018 and has continued to expand ever since. Each year sees a new CSGO season launched, with new features being added all the time.
Free to Collect
The best bit is you can start off for free. When you first join you are given a free onboarding pack. Your free cards can then be used to create a roster and play the Epics Rush game. From there, the more you play, the more free card packs you will unlock.
Epics also includes a spinner wheel which you can spin for free every 30 minutes. The wheel contains a huge range of prizes, including card packs, Epicoins, crafting shards and silver coins.
There's also plenty of rewards for completing activities along the way with Daily, Weekly and General quests to complete. Logging in regularly for 7 days can net you the Player Of The Week Card, whilst by logging for 27 days you can unlock the Player Of The Month card.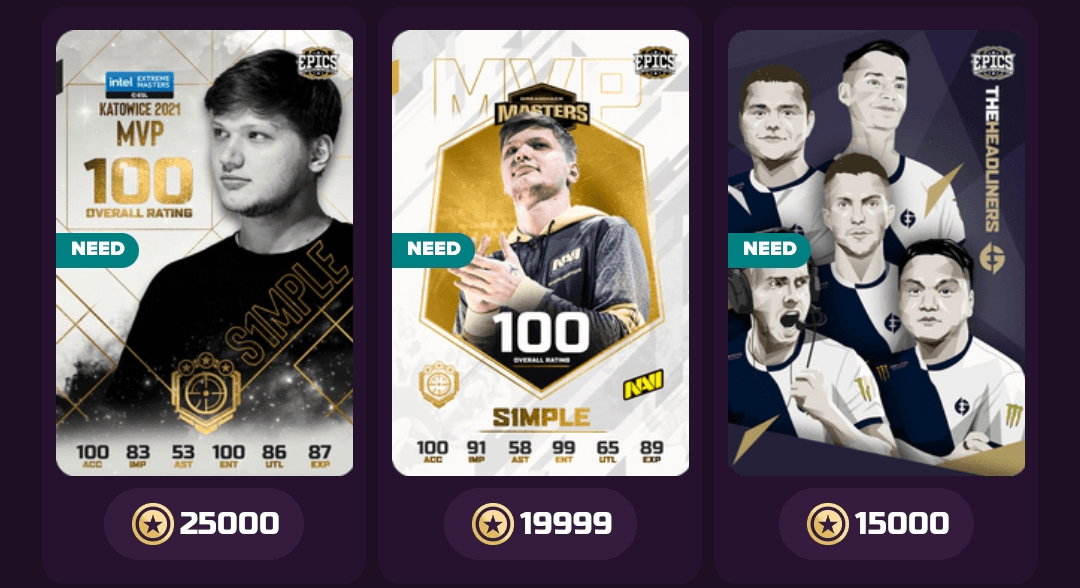 Sign Up Bonus For Extra Epicoins
Use code: SESSION to get 15% bonus on any epicoin purchases you make within the first 30 days of creating your Epics account! This can be an awesome way to kick start your collection.
Collecting Epics CSGO Cards
Each season of CSGO cards contains a core collection of cards. The full set is divided up into different tiers which vary in rarity. The most common cards are easy to obtain, while the Legendary cards are much harder to find.
The 2021 CSGO core collection includes:
Common:
Purple
Bronze
Silver
Uncommon:
Diamond
Onyx
Gold
Tier 1 Superior:
Entry Fragger
Rifler
Sniper
Support
Origins
Tier 2 Epic:
Master Entry Fragger
Master Rifler
Master Sniper
Master Support
Master Origins
Battlegrounds
Tier 3 Legendary:
Master Entry Fragger
Master Rifler
Master Sniper
Master Support
Legends
Specialist
Cards are obtained from opening Purple, Adrenaline, Gold, Diamond card parks. Purple packs contain lower tier cards, whilst Diamond packs have a chance to drop cards for all tiers, including the super rare Legendary cards.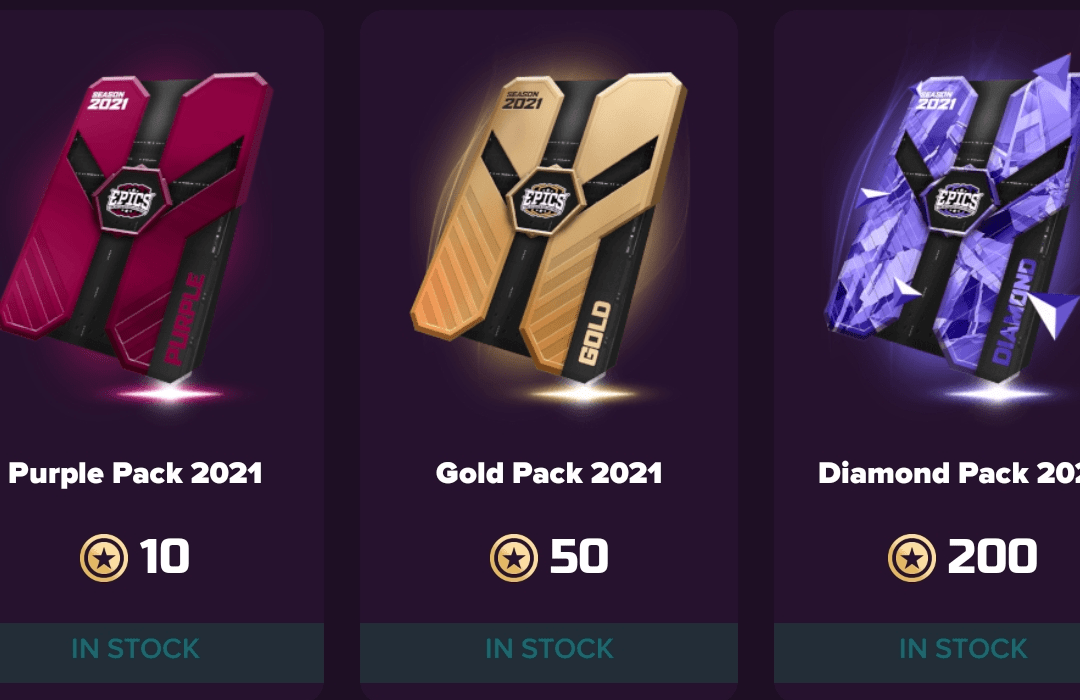 Additionally there are also special collections for events such as IEM Cologne, Dreamhack Masters and ESL Pro League.
Throughout the year there's also various Limited Edition and Special Edition card sets that drop, including the Fade, Rogue Operatives, Blacksite, Independence Day and Pistol Kings collections.
Crafting
Crafting provides a great way to turn your duplicate cards into a higher tier card. Each craft requires 1 crafting shard or orb, which can be obtained via the spinner wheel. The crafting recipe also requires a number of duplicate cards and silver coins. Whilst the cost to craft lower tier cards is small, it can be quite costly to craft high tier cards.
Eg. To craft an uncommon card, you will need 5 common cards, 500 silver coins and an uncommon shard.
Eg. To craft a Tier 2 Epic card, you will need 15 tier 1 cards, 15000 silver coins and an Epic shard.
Trading
The Epics platform also lets you trade your cards and items with other players. To send another player a trade, you will first need to know their username. The Epics discord is a great way to find other players in the community to trade with.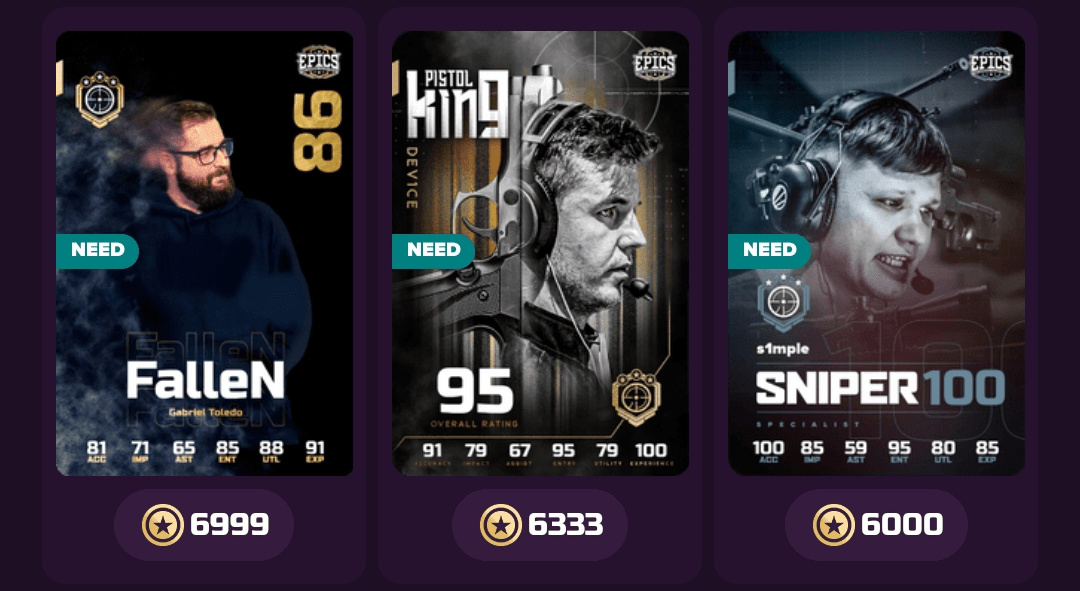 Marketplace
The marketplace is a great way to earn epicoins for your unwanted cards or items. You can easily list your cards for sale and name your price. For each sale over 9 epicoins, Epics collects a 15% commission.
When listing a card for sale, the marketplace generates a 'suggested value'. You can use this as a starting point for determining how much your card is worth. However you should also take into account other factors such as mint and rarity. It's always a good idea to look at the recent sales history to get a feel for how much similar cards have sold for recently.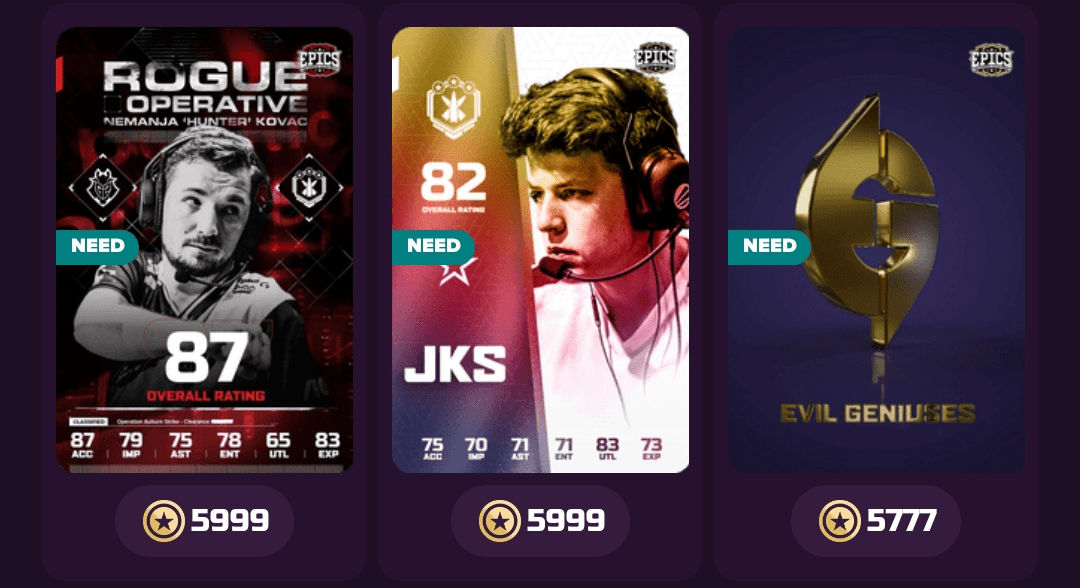 Epics Rush
Epics Rush is an exciting game where you get to put the cards you have collected to work.
Each card in your collection has a bunch of stats associated with it and an OVR (Overall Rating) for how well the player performs. The higher the OVR, the better!
Building a Roster
The first step is to build a roster of 5 players, with a total budget of $45,000. Each roster is made up of one card each of the following roles: Rifler, Sniper, Support, Entry and Flex. Flex is a wildcard option where you choose a card from any role. So if you want a double AWP set up, go for it!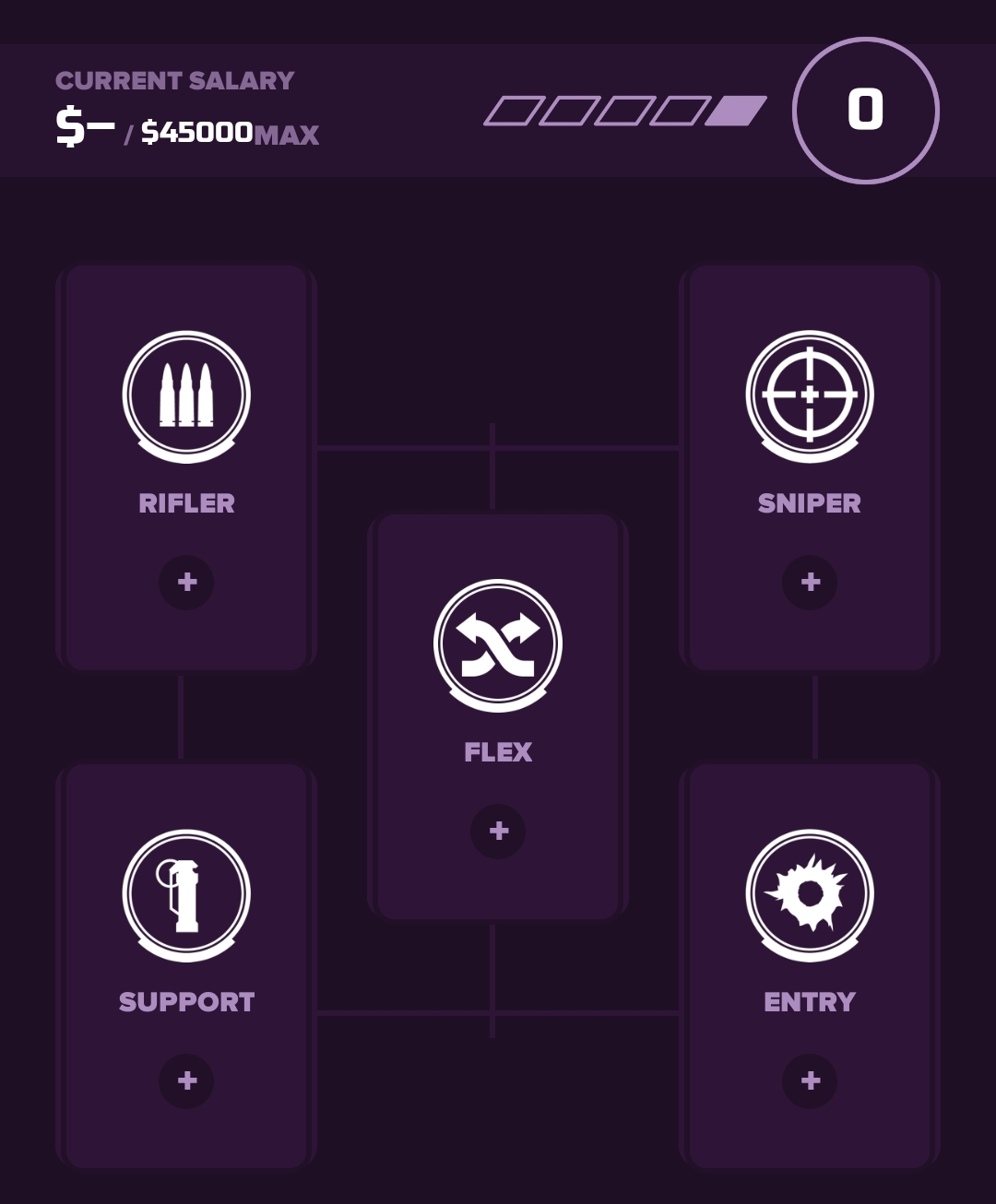 Bonuses / Penalties
There's a few different bonuses that stack up based on the different cards that you choose. Having multiple players from the same country will give you a bonus, as does having players from the same team in your line up. Experiment with different rosters to find out what works best to achieve a high OVR (Overall Rating).
Depending on your line up, your roster may also have strong map bonuses, or weak map penalties. These are important to remember during the map ban process when playing an Epics Rush game.
Roster Level
Roster Level is what defines what other rosters your squad can compete against. There are 5 roster levels within the game. When you first put your team together, it will have a roster level of 1.
| Roster Level | Bonus |
| --- | --- |
| 1 | 0% - 149% |
| 2 | 150% - 549% |
| 3 | 550 - 949% |
| 4 | 950% - 1149% |
| 5 | +1150% |
Cards can be levelled up via the 'Level Cards' menu within the game. The costs vary depending on the tier of the card being levelled up. The costs increase with each level until the card is maxed out. Levelling up higher tier cards provides a much larger roster level bonus than lower tier cards.
Some of the PVE Rush Circuits have a roster level requirement, where your squad must obtain a specific roster level in order to compete. Generally the higher the roster level requirement, the greater the prize rewards. The prestige circuits allow you to win epicoins, gold and even diamond card packs.
Playing an Epics Rush Match
Epics Rush let's you play against other players via the Challenge PVP system, or against the pros via the PVE Battles epic circuit system. The PVE Battles circuit is a great place to begin, as it has a bunch of prizes to unlock to help you grow your card collection.
The actual game of Epics Rush is quite simple. You first select the roster you want to compete with. Then choose 2 maps to ban on the Map Bans screen. You will then be shown a summary of the upcoming game, complete with the odds of each team winning. Then when you're ready, tap Battle to let the game play out. You can either watch the game through, or tap again to skip to the results.
Get Your Epics CSGO Collection Started
Hopefully this overview of the Epics platform has helped you understand what it's all about and how to get started! The best way forward though, is to create an account for yourself and start exploring.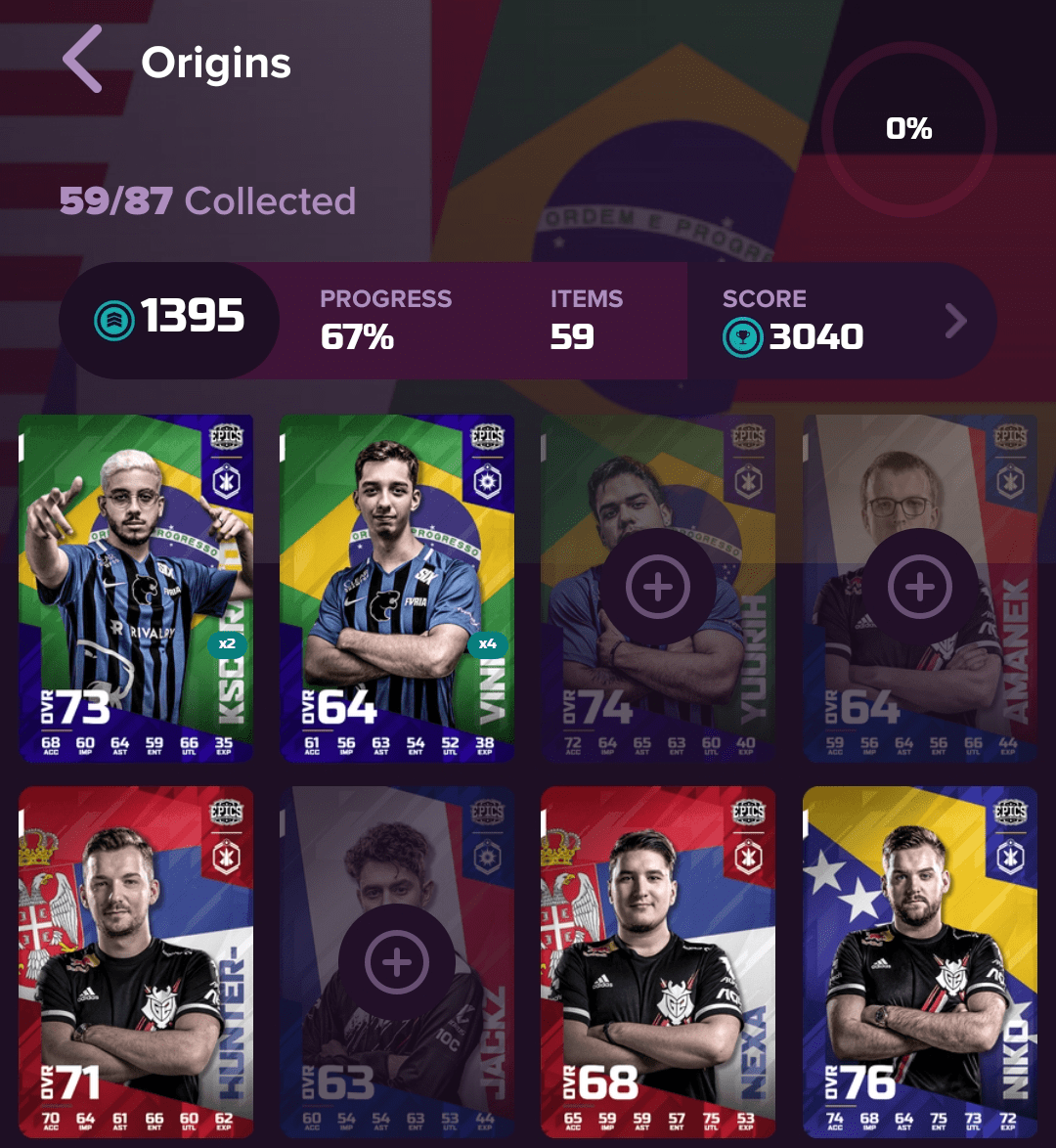 Remember to use code: SESSION when you register to unlock 15% bonuses on any epicoins you purchase within the first 30 days. Head on over to Epics now to register.
We also have a heap of other CSGO sites for you to check out!
Happy CSGO card collecting!